Here is a sample of website design projects, designed and handcrafted by Free Range Web Design.
This portfolio spans more than 10 years – recent websites are also responsive (automatically adapt to be more readable on phones and small screens). Google Analytics information will give you clear information about how people are viewing your website (phone, ipad, desktop PCs etc).
Some are websites where the clients make updates themselves (using a CMS – Content Management System), some websites are updated and managed by Free Range.
QPA – QUALITY PRACTICE ACCREDITATION
There are standards in place across Australia helping to ensure us as patients that a general practice (GP) or doctor's surgery is providing safe and effective, high quality care. QPA is an independent accreditation provider and specialist in General Practice.
CURATORS COLLECTIVE JUGIONG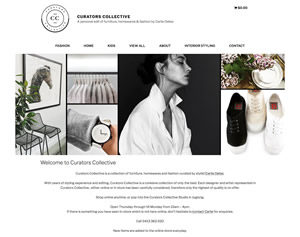 Curators Collective is a collection of furniture, homewares and fashion curated by stylist Carlie Oates. With years of styling experience, Carlie has carefully considered products, designers and artists and only the highest of quality is on offer. The online store is an easy way to browse but better still … pop into the Curators Collective and see Carlie in Jugiong!
Visit Curators Collective, Jugiong
THE SIR GEORGE, JUGIONG
Located in the riverside village of Jugiong, the Sir George offers a unique experience! Built in 1852, the historic venue has been lovingly restored to create a warm and relaxed space where old meets new … with a restaurant, boutique bar and artisan bakery.
GUNDAGAI LOCAL | COOTA LOCAL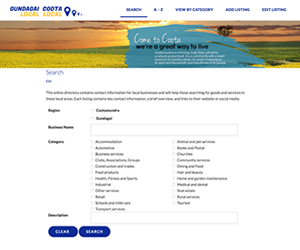 This online directory is an initiative of the Coota Gundagai Regional Council (CGRC). It contains contact information for local businesses and will help those searching for goods and services in these the Gundagai and Coota regions.
BLAKENEY MILLAR FOUNDATION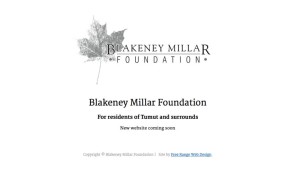 The Blakeney-Millar Foundation was established to administer the Estate of the late Mrs Lily Millar. The new website is coming soon with details of the work of the Foundation and how to apply (for residents of Tumut and surrounds).
Visit Blakeney Millar Foundation
MASONS BULLDOZING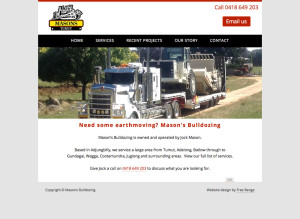 Masons Bulldozing just want to be found – by the existing clients they service and potential customers needing earthmoving and various other services. Jock was finding the Yellow Pages expensive and of questionable value. This new website is also responsive to small screens and mobile phones.
LITTLE POSSUMS, TUMUT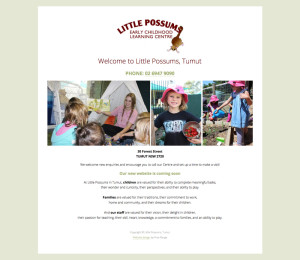 Little Possums is a Child Care and Early Learning Centre in Tumut caring for children aged 0 – 5. They are looking for a website to be an information resource for new and existing parents – news, policies, forms, and coming events.
Visit Little Possums Child Care, Tumut
Jugiong Art Exhibition
This new website is to promote the popular art show which is held every 2 years in Jugiong – watch for details about the next art exhibition in November 2015.
Arcscape: Landscape consulting and construction
This Riverina based landscaping team need a website to showcase their recent work and landscaping services. Full website with photo gallery will be coming soon.
Regional Engineering Services
This established Cootamundra business is busy providing engineers and surveyors for contracted projects throughout regional NSW.
Visit Regional Engineering Services website
Valley Vista Poll Dorsets
This new website has details about their Poll Dorset Stud, silage wrapping and other contractor services.
Visit Valley Vista Poll Dorsets
Ag and General Consulting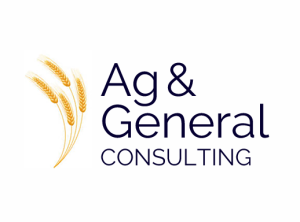 This is a new website for a small, independent company specialising in agronomy and farm business management. Free Range also revamped their business logo.
Visit Ag and General Consulting
Ideal Coffee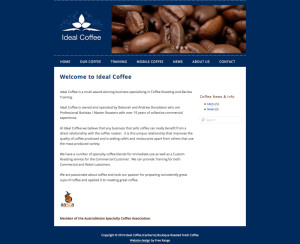 This is a new website for a small, boutique Canberra coffee roaster. Love their work!
Organised Abode
This new website is under development – stand by for details about this exciting new business designed to eliminate clutter and get you organised!
Visit Gundagai
This is the official tourism website for Gundagai. Packed with information on things to see & do, it has beautiful images and information galore to help you plan your stay in Gundagai.
RCA (Road Constructions Australia Pty Ltd)
As contractors supplying plant & civil solutions for upgrading Australia's highways, RCA needed a professional new presence on the web.
NSW Polocrosse
This new website enables NSW Polocrosse to easily communicate news and event information to their membership base. Password access is provided to a members area and people can easily subscribe and unsubscribe to newsletters.
Harvest Country
This boutique style plant nursery and homewares store in Cootamundra has a new website to showcase its seasonal stock, one-off items and beautiful range of products for the house and garden.
Kirraweena Glenholme Hereford Stud
With an Annual Sale, this Hereford Stud were looking for a way to promote their bulls & females to new and existing buyers.
Dowell Solutions
Operating as a consultant across the Occupational Health & Safety and Human Resources arena, this client needed a dynamic site to keep adding new content about current issues and available training.
Visit the Dowell Solutions site
Rural Management Strategies
Agricultural consultants based in Wagga and Cootamundra, RMS wanted a website to provide an easy point of contact for the many farm clients they service throughout southern NSW.
Carrathool Races
The epitomy of a bush race meeting, the Carrathool Jockey Club needed a website to help spread the word about its annual races.
Visit the Carrathool Races website
Cootamundra Cycling Club
In a town known for its strong cycling community, the Cootamundra Cycle Club has a new website posting news and information on training, cycle routes and upcoming events. The site has been set up so the Club can easily manage and update the site into the future.
Visit the Coota Cycle Club website
Gundagai Show
Renowned for its strong ring events and showjumping, the Gundagai P & A Society wanted a simple site for people to easily access the show schedule.
Visit the Gundagai Show website
Tumut Races
The Tumut Turf Club hosts 4 big meetings a year (including "the big one" on Boxing Day!) and wanted a website to provide information to racegoers and visitors to the town.
Snake Gully Cup
With crowds growing every year, the progressive Gundagai-Adelong Race Club required an information website for its popular annual racing carnival.